Managing Broker / Owner:
Tim Kilgannon
Tim Kilgannon is a Denver native with over 25 years as a licensed Real Estate Broker. Tim graduated from the University of Colorado with a Civil Engineering degree specializing in structural mechanics. Formal real estate training started 30 years ago with Frontier Better Homes and Gardens, now Coldwell Banker.
Tim has sold residential real estate across the Denver Metro area but specializes in downtown Denver developments, primarily new loft developments or historic conversions. He is recognized as one of the top individual brokers selling in Lodo and Riverfront Park, earning the top outside broker designation at Glass House in Riverfront.
Tim's experience goes beyond the buying and selling of real estate. Tim owns several investment rental properties in Downtown Denver, LoDo and Uptown, and understands the basic construction practices of today and the pros and cons of owner occupied and investment properties based on his own professional and personal experiences.
Tim is married with two boys and enjoys many of the outdoor activities the wonderful state of Colorado has to offer. Tim plays ice hockey regularly, loves to run, hike, and generally be outside enjoying the mild weather of Denver.
Managing Director / Owner:
Carl Hulen
After an aerospace engineering degree from the University of Colorado at Boulder, Carl spent the late 1980s working proprietary contracts in the Washington DC area, including NASA and lesser-known government agencies.
In 1993 he returned to Colorado and started a consulting firm with focus on real estate development. In the mid-1990s, he began investing in redeveloping Lodo projects including Morey Mercantile Square, home to the Tattered Cover bookstore and residential lofts. Toward the late 1990's, investments expanded to include commercial projects and residential lofts in several new and historic Lodo buildings. In 2001, he founded HomeToDenver with Tim Kilgannon, a brokerage based in Lodo, Denver.
Carl specializes in the acquisition of Lodo condos and lofts and also in the history of the developments downtown, and understands the advantages of living in different buildings, either new or historic conversions. He also serves as director of several partnerships. Carl has three children, two at CU Boulder and one at UH Manoa, and enjoys skiing, biking, scuba diving and paddleboarding the Kona, Hawaii coast where he also holds an active real estate license.


---
As owners of the historic Blake Street Vault restaurant, also located at 1526 Blake Street, Tim and Carl are active members in the LoDo Historic District (lodo.org) and Visit Denver, the Denver convention and visitor bureau (denver.org). They share an interest in the preservation of the unique history of the area and the vibrant lifestyle that is afforded to the lucky residents of downtown Denver, Colorado.
Downtown Office:
HomeToDenver LLC
1526 Blake Street
Denver, CO 80202
Phone: 303-988-4200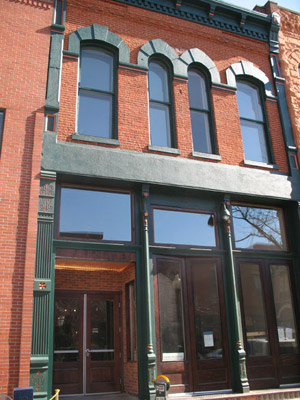 1526 Blake Street during 2008 restoration.
Our office at 1526 Blake, originally built in 1863, is one of the oldest buildings in LoDo
and served as a boarding house & saloon in the early years of Denver. Read more...